Anyone who has adopted a pet from elsewhere knows about the difficulty and cost of coordinating his or her transport. This is the story of a group of former and current truck drivers volunteering their time (and their homes and the cabs of their trucks) to transport pets around the country for free. The people I met behind it, led by Sue Weise of Prescott, AR, are driven by a sheer love of animals. It was great to hear their story and impressive to hear about the logistics they constantly wrangle.
Drivers volunteer to carry animals
By Emma Hurt
After hearing and watching the horror stories of Hurricanes Katrina and Rita in 2005, Sue Weise felt compelled to do something to help. She just didn't know what exactly.
"I began praying, 'What can I do? I'm just a truck driver,'" she recalled. "I forgot to expect an answer when asking the Lord a question."
The Prescott resident said she suddenly came up with the idea of truck drivers transporting some of the many displaced animals and decided to see if her peers would help. Weise, who had begun a second career in truck driving a decade prior, went on a truckers' talk radio show at the urging of her friends and daughters.
She called in under her CB radio handle, Classy Lady, and asked if anyone would be interested in helping transport pets to their new homes across the country.
People were interested. Operation Roger, as the nonprofit is now called -- named for a former rescue dog of Weise's -- has transported more than 900 pets since September 2005.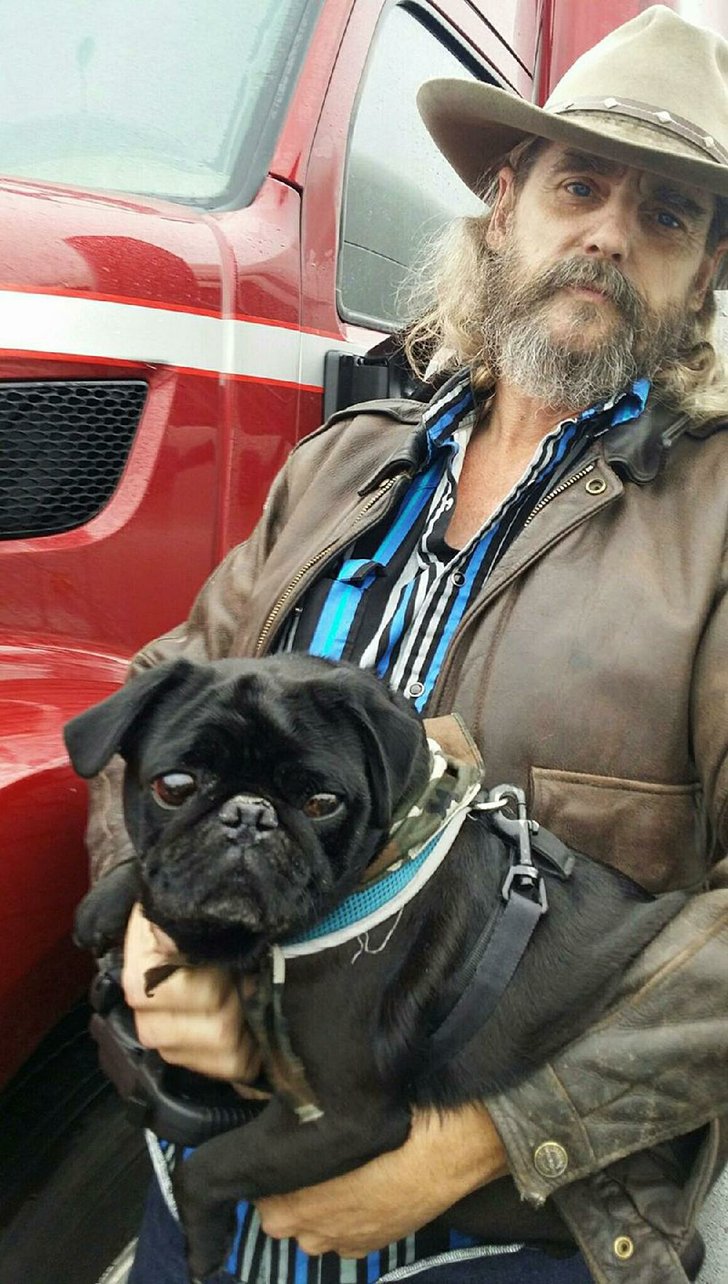 While the interest has been mostly in dogs, the group will try to help just about any domestic animal, from ferrets to cats, rats to tarantulas. They successfully transported 12 rats once but, she recalled, were not able to make a 60-pound tortoise work.
It all happens through a logistical nightmare of manually matching pets and their routes to volunteer truck drivers and their ever-changing schedules. Weise and her small team of volunteers also manage volunteer shuttle drivers to bring pets to meet the truckers and temporary foster homes for stops along the way.
Transporting a pet can cost hundreds of dollars, but Operation Roger only requests a donation. "There's a $40 minimum, but you can give us more and we will just love you for it," she said. "It's tax-deductible and nonrefundable, but the transport is for free."
Drivers must work for companies that allow pets, which many do. In Arkansas, for example, USA Truck, J.B. Hunt and Cal-Ark International are just a few with pet-tolerant policies.
Jim Farmer has been driving professionally since 1982 and transporting pets with Operation Roger for almost a decade. He estimates he has had 70 to 80 of them in his truck over the years.
"I've always loved dogs and had my own riding with me a lot of times. I'm just a real dog person," he said. "It's not about anything else but the dogs ... or the cats, sometimes."
Operation Roger has to react to whichever drivers and pet requests they have in a given moment. After big storms or events, their pet requests increase, and over the years they've ranged from 10 to 60 drivers on the roster.
"Life gets in the way," Weise explained. "People change jobs or maybe they decide they don't like all the hair."
Every week their drivers send in their expected routes and locations so that Weise can try to match them with pets. The truck drivers' schedules take priority though, so animals may have to wait.
"Sometimes it takes a long time. You have to wait for the right driver. That's the limitation that we have," she said.
"We are here to help. That's all we are trying to do," she said. "It does take time though, because it has to be on the driver's schedule."
Idella Hansen is an Operation Roger board member and a professional truck driver. "If we could not transport them, a lot of these pets wouldn't have a home," she said. "Some folks don't have a couple of hundred dollars to ship them on a plane and some of them are not transportable, like a lot of the pit mixes and the bigger dogs. We transported one last week who was deaf and real sensitive."
"We do it for the love of animals," Hansen said. "Almost all of us have our own pets."
If they can, they will do whatever to make it happen. Weise recalled one dog rescued from an abandoned house in Louisiana whose itinerary to Reno, Nev., involved six different handoffs over three weeks.
At the beginning the dog was trembling, Weise said. "By the time she got to that last driver, she was all, 'OK, where we going next?'"
A further logistical complication involves where drivers can legally park their trucks to meet foster parents or pet owners. Toni McQueen, who helps Wiese with the administration and logistics, said this is one of her biggest challenges.
"I have trouble getting people to understand that truckers cannot just park in any Wal-Mart," she said. "Sometimes people just don't understand that [truck drivers] can get ticketed and towed. They can't go everywhere."
Additionally, Weise said, there is no leeway in appointment times. "If you can't meet the driver when and where he or she says to meet, the pet misses the ride. If the driver has to go, he has to go. Drivers can't miss their loads."
But the advantages when it works are wonderful, McQueen said. She discovered Operation Roger after a horrible experience transporting a rescued Boston Terrier. Someone offering professional pet transport nearly killed the dog after abandoning it for a week.
"Truck drivers are usually in the truck alone," she said. "You can hear the excitement of their voices when they do get a new transport. They love it."
"They've got company that otherwise they wouldn't have," she said. "It sure beats being in there by yourself the whole time."
Plus, she explained, the enclosed setup allows for pets to be free of crates which makes for an all around better experience.
"It gives them more one-on-one attention," she said. "That to me makes a more successful transport because you are more apt to catch it if one of them has car sickness or needs a bathroom break."
McQueen and Weise thoroughly vet the applications of drivers and pet owners to try to avoid trouble. Drivers go through "Operation Roger University" training as well.
The most important quality in a driver? A demonstrated love of animals.
As for the pets? Operation Roger asks for total honesty on the application. If they are not housebroken, "We kind of like to know that," Weise said.
SundayMonday Business on 05/28/2017